The land of Quinta das Fontaltas vineyard dates back to centuries with origins in 1626. It is located in Resende, on 25 hectares of a south-facing slope, opposite the Monastery of Cárquere, in the Douro Region of Northern Portugal. It belonged to a noble family of the Royal Court, but has remained in the Namora Family for three centuries.
The land has been identified since the beginning of the 17th century, but it was only in the 19th century that the primary teacher, conservator of the Land Registry and vice-president of Resende Chamber - Herculano de Almeida Matos, great-great-grandfather of the current generation of Namora's Family of this project – starts to manage (and later buys) the land, as procurator of Dom José Ignáciode Castelo-Branco, 4th Marquês de Belas.
In its agricultural history, wine, olive oil, fruit and vegetable production stand out. After several decades of abandonment and inadvertent fallow, the new generation, already in the XXI century, begins the recovery of the Quinta, highlighting the planting of vines in almost half the area. This vineyard has a genetic heritage of more than 390 years, making its wines unique.
The culture of vineyards and wine in that region and on those slopes started in the19th century through religious orders, their ancestral knowledge and practices and, in this case, through the Monastery of Cárquere.
That is why at Quinta das Fontaltas, they say "the vineyards planted in terraces, on a sunny southern slope blessed by the legends and ancestral practices of the Monastery of Cárquere".
The south-facing vineyards are embraced by winding hillsides, exposing them to the sun's rays all day long. However, they are unable to escape the cold mountain nights. The vineyards are built along multiple terraces, extending from the background stream to the highest points of the hill. As a result, they have varying altitudes, terrains, and average temperatures. These natural factors lead to the production of high-quality grapes that possess a plethora of aromas, sugar levels, and acidity. Consequently, unique and exceptional blends can be crafted.
The wine production in this region primarily uses traditional varieties, particularly the Avesso variety, which is abundant in this sub-region. The final product is a nectar with a high alcohol content, typical of Douro wines, and the freshness and lightness of "green wines."
Specific varieties are best suited for the vineyards due to their natural characteristics such as sun exposure and wind protection. These varieties, such as "Arinto" are often used as a base for producing Vinho Verde sparkling wines.
The Quinta das Fontaltas wineyard is composed, in greater percentage, with the Arinto variety and with other varieties characteristic of Vinho Verde, namely, Loureiro, Trajadura and Avesso. With the latter, extremely sensitive variety, planted at the highest point of the properties, furthest from the brook and less exposed to fogs.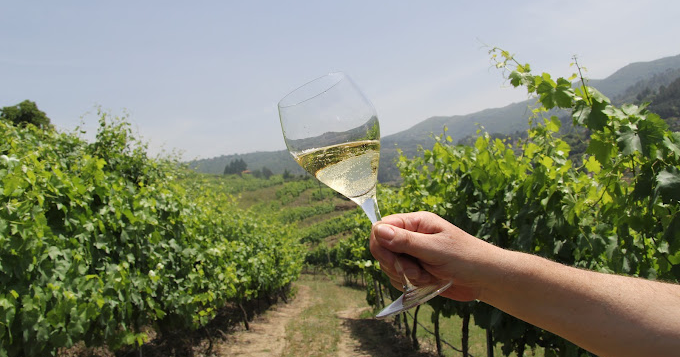 Check Out More Products From Quinta das Fontaltas